Description
Deerma Ultraviyole Ultrasonik Soğuk Buhar Makinesi F628S
Derinlemesine sterilize edilmiş su buharı ile ailenizin sağlığını koruyan nemlendirme.
Entegre Su Kanalı Her Damlasında Sterilize Su Sağlar
Deerma Nemlendiriciye tek yönlü su kanalı ve Ultraviyole Sterilizasyon sağlayan UV lambaları entegre edilmiştir. Nemlendiriciye koyulan her su ilk önce su kanalında ultraviyole sterilizasyon işlemi görür ve sonrasında atomizasyon bölümüne gider. Böylece nemlendirici herhangi bir sağlık problemine neden olmayacak kadar temiz ve taze bir buhar verir.
Ultraviyole Sterilizasyonun Büyülü Etkisiyle Sağlığınızı Korur
Deerma DEM F628S Ultrasonik Hava Nemlendiricisi atomizasyondan önce suyu derinlemesine sterilize eder. Sadece sterilize edilmiş su ile gerçekleştirilen nemlendirme, ailenizin ve sizin sağlığınızı koruyan nemli bir ortam sağlar.
Akıllı Nem Kontrolü ile Rutubetsiz Nemlendirme
Sıcaklık ve nem sağlığınızla yakından ilişkili değerlerdir. Uygun sıcaklık ve nemlilikteki bir ortamda fiziksel sağlığınız için gerekli standartlar sağlanmış olur. Deerma DEM F628S Ultrasonik Hava Nemlendiricisi havadaki nemi %45-90 arasında belirlediğiniz bir değerde sabitleyerek sağlığınız için uygun koşulların oluşmasını sağlar.
Dijital Sıcaklık ve Nem Göstergesi
Deerma DEM F628S Ultrasonik Hava Nemlendiricisindeki dijital ekran sıcaklık ve nem göstergeleri, hedeflediğiniz nemlendirme etkisini sağlayabilmeniz için mevcut sıcaklık ve nem bilgilerini gerçek zamanlı olarak sunar.
Işıksız ve Sessiz Nemlendirme
Deerma DEM F628S Ultrasonik Hava Nemlendiricisi, sizi rahatsız edebilecek herhangi bir gürültü çıkarmadan sessizce çalışır. Çalışma ses seviyesi 30dB kadar düşüktür. Dijital ekrandaki ışığın gece uyurken sizi rahatsız etmesini istemezseniz, "Timing" – "Zamanlayıcı" düğmesine 3 saniye kadar basarak ekranı kapatabilirsiniz.
Ufak Boy, Büyük Kapasite
Deerma DEM F628S Ultrasonik Hava Nemlendirici küçük bir boyuta sahip olmasına rağmen, 5 litrelik kapasiteye sahiptir. Tek bir defa su ekleyerek tüm gün çalıştırabilirsiniz. Haznedeki su miktarını şeffaf su seviyesi göstergesinden görebilir ve gerektiğinde su ekleyebilirsiniz.
Ürün Özellikleri
Ürün Adı: Deerma
DEM F628S Ultrasonik Hava Nemlendirici
Çalışma Voltajı (v): 220-240V, 50/60HZ
Çalışma Gücü (w): 25W
Kapasite (L): 5 Litre
Buhar Miktarı: ≤350ml/s
Kapsama Alanı: 25-30 ㎡
Ses Seviyesi: <35db
Renk: Beyaz
Ağırlık: 1.2Kg
Boyutu (mm): 190x190x350mm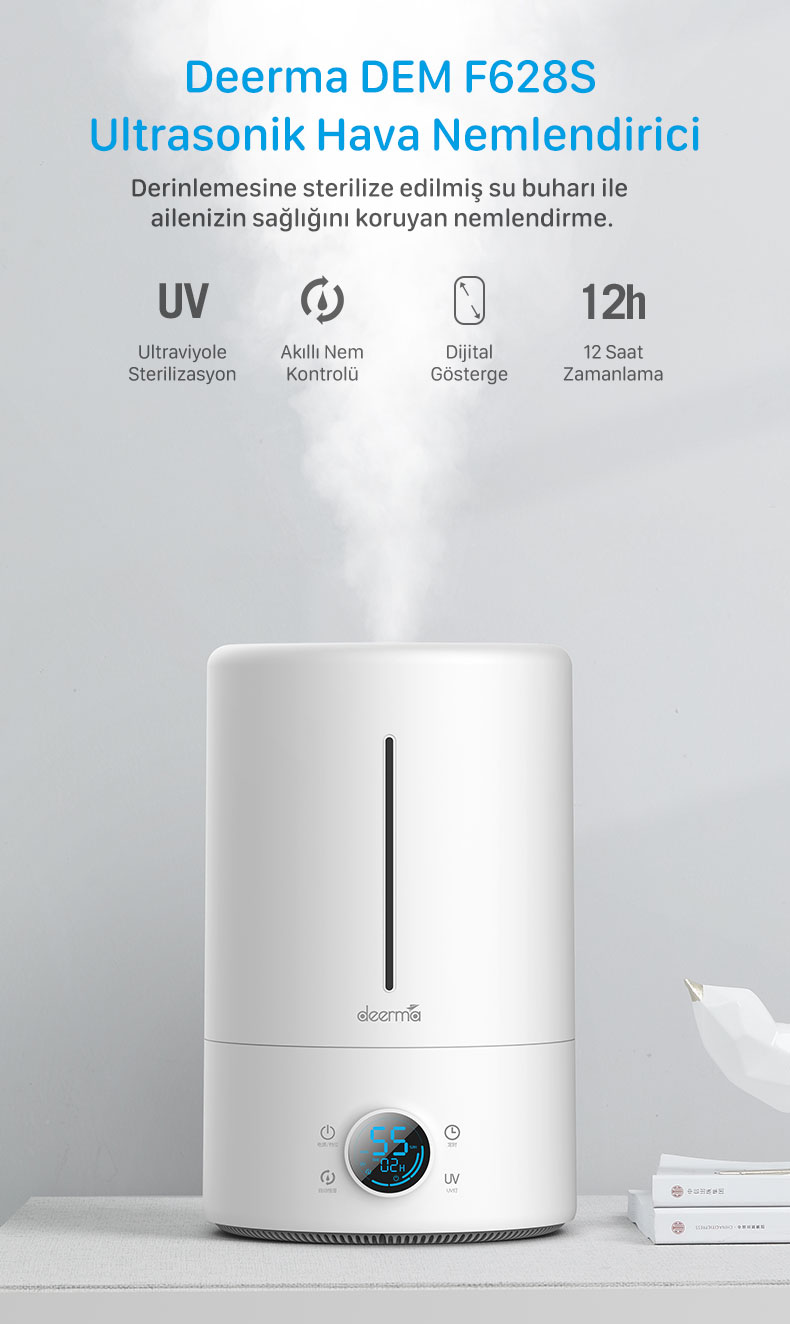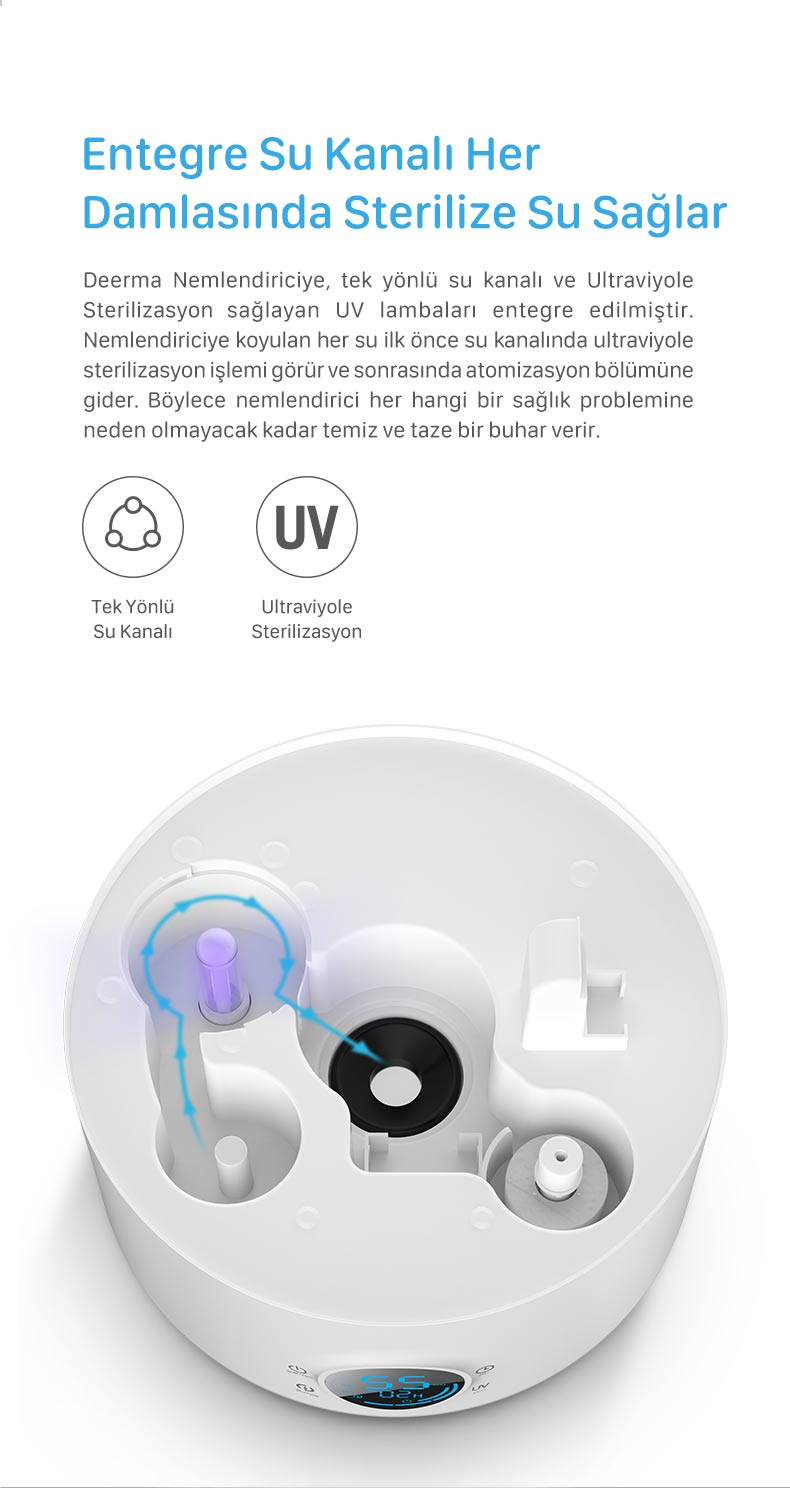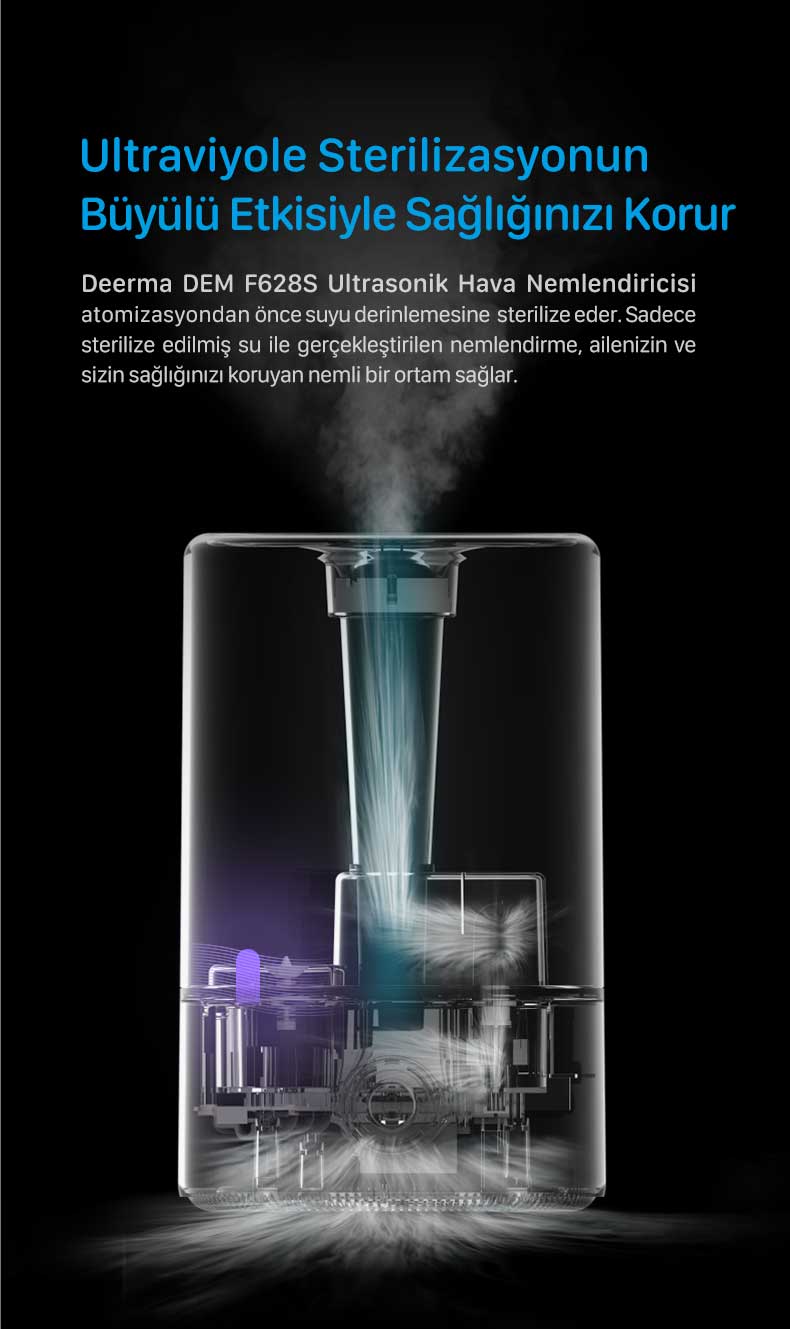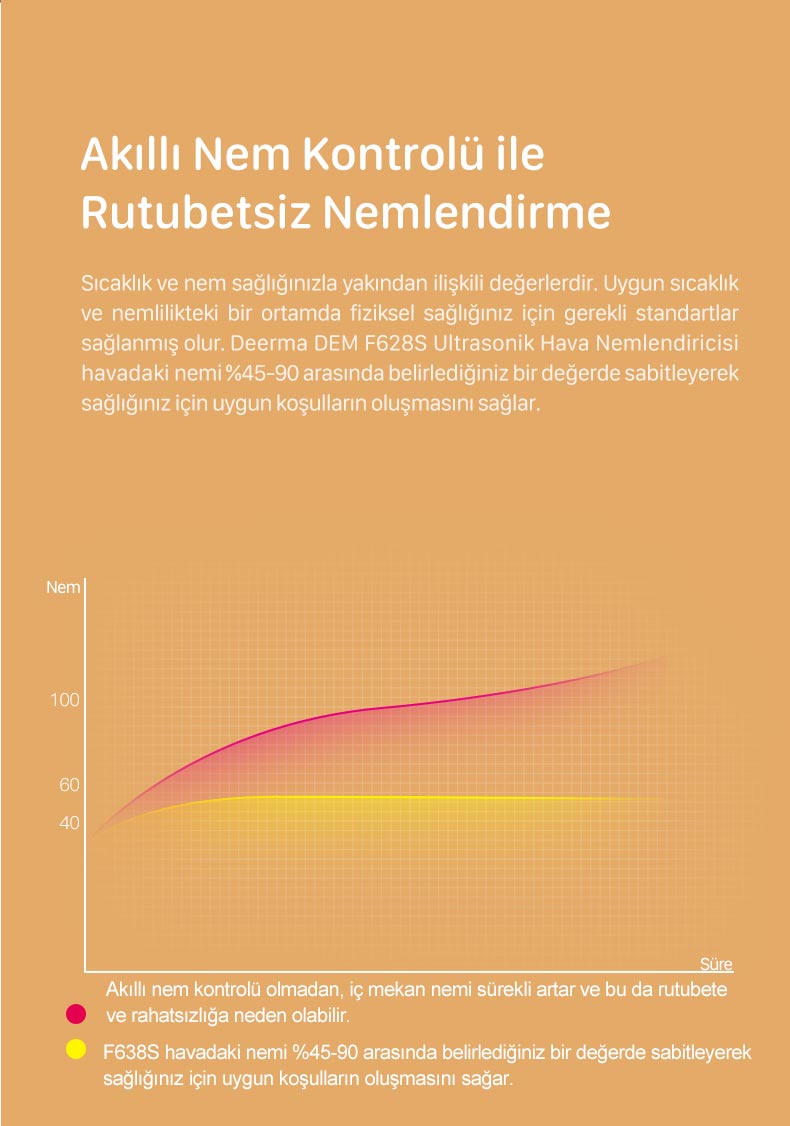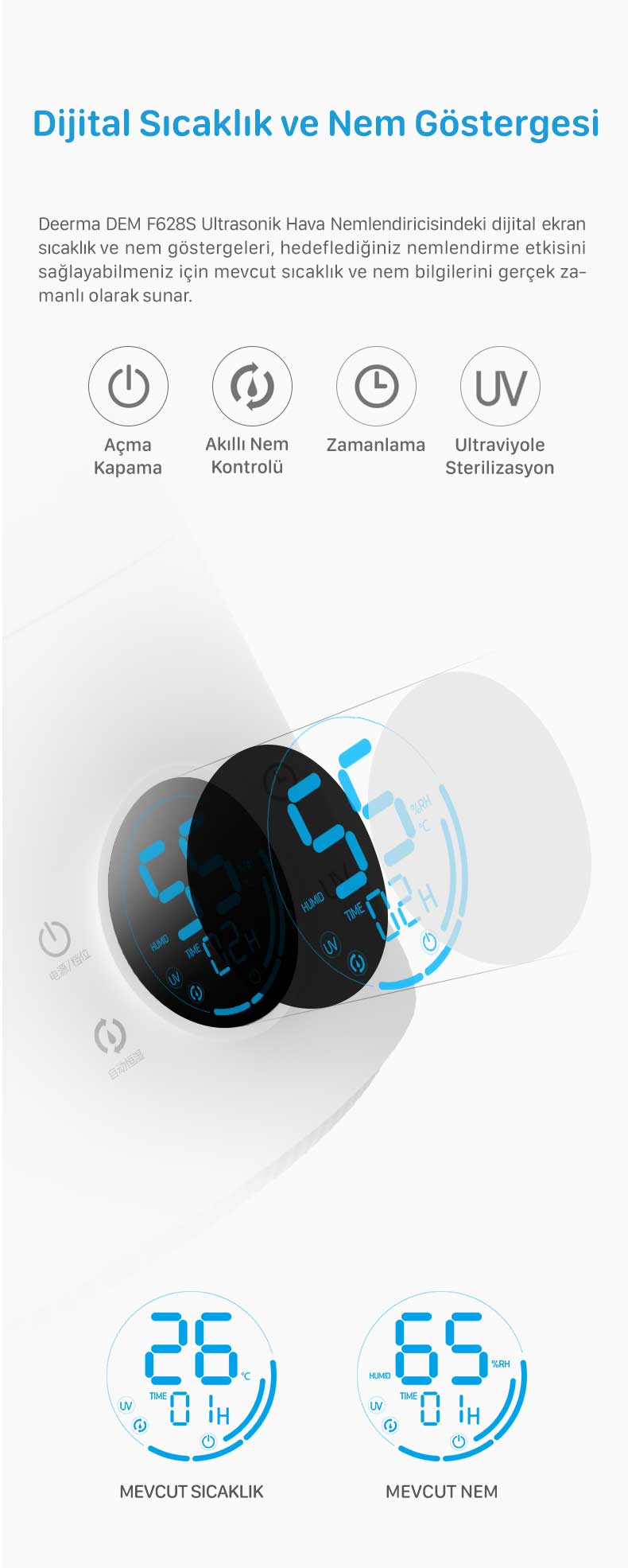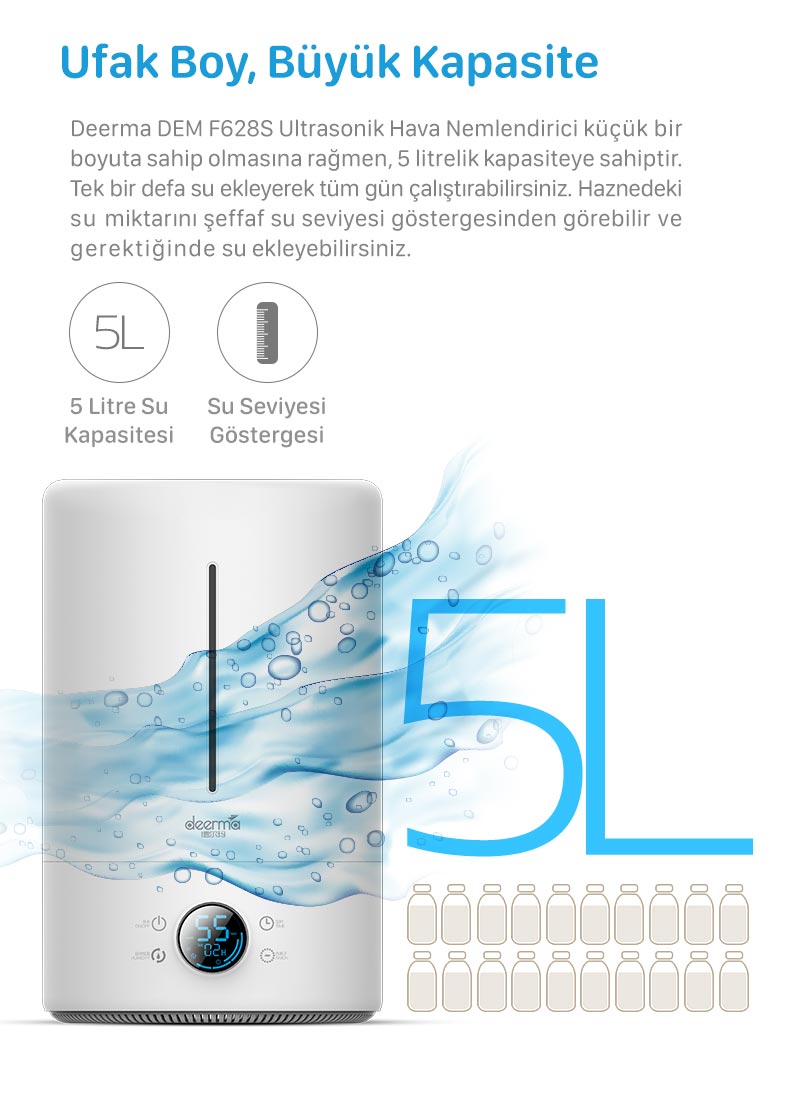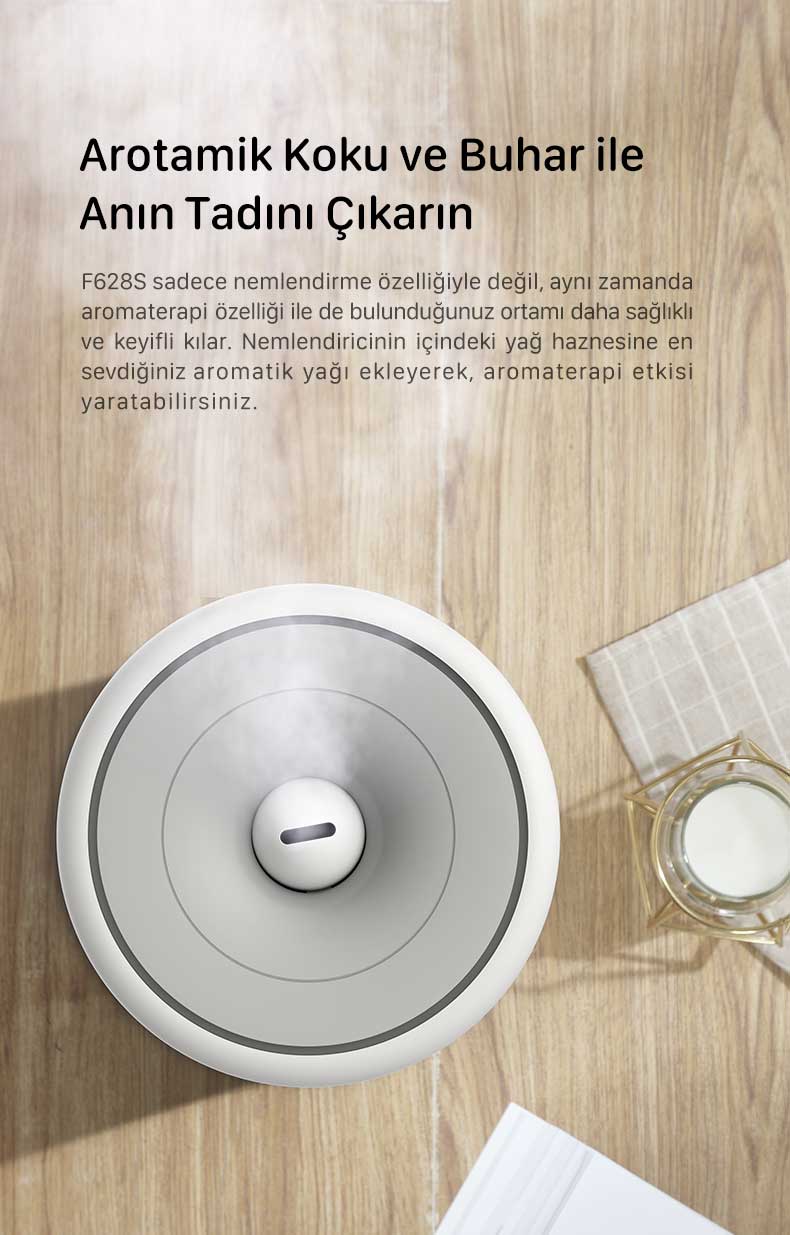 | | |
| --- | --- |
| Garanti Süresi (Ay) | 0 |
| Yurt Dışı Satış | Var |
| Stok Kodu | FSV00000NYCTP |
Payment & Security
Your payment information is processed securely. We do not store credit card details nor have access to your credit card information.